My name is Mike Cavender and I live in Elkview, West Virginia.

I must be nuts. I recently quit my job with my employer of 28 years to go into the home building business. Based on how the economy is going, I've awakened many a night at 2 or 3 a.m. wondering what the heck I've done. I've always loved building and architecture, and believe that there is a real need for residential builders that concentrate on energy efficiency. That is what led me to Copeland Casati of the prefabs Green Cottage Kits / Green Modern Kits and the SIP construction system. Anyway, I pulled the trigger and we are about to build our first home.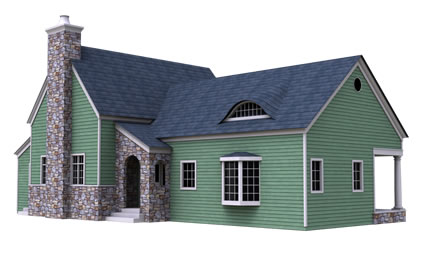 Passive design cottage : Midway by Green Cottage Kits
Right now I am not a licensed contractor, although I will pursue that. I do have personal building experience, having built our first home 25 years ago (out of green lumber, white oak and hickory, which is quite a story in itself). I also acted as the general contractor on our second residence, a package log kit home.
In addition I have 2 brothers, Joe and Rusty, that are contractors for many many years, with all manner of construction under their belts. I wouldn't have gone into this if they hadn't agreed to do it with me. I'm supplying the moolah and business management and they are supplying the expertise, skill and site management. SIP building is new to them too, with the exception of a bunch of refrigerator/freezer units that they put together for our county school system several years ago. The fact that these were constructed of SIP's ought to tell you something!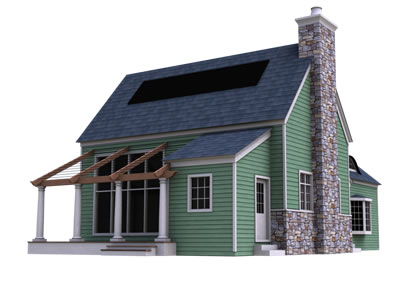 Passive solar prefab cottage house kit, Midway.
So, quit my job, jumped through the hoops to set up a business, and started determining which house we wanted to build first, as a spec house, using a considerable chunk of our savings. My wife Angie, who after the initial shock of hearing what I wanted to do, has been quite supportive and a great help. Then one day she comes home and tells me that her mom has decided that she wants to sell the house she's lived in for 50 years and build something smaller. Angie said "Mom, that's great, Mike is getting into home building and you can be his first customer." Thank you honey!
Cardinal Building Systems of Winchester, VA is one of the plants that produces Green Modern Kits and provides technical and engineering help to Green Cottage Kits / Green Modern Kits customers.
When I told Richard Lloyd of CBS that my first house would be built for my mother-in-law he told me I was a brave man.
The foundation is laid out and tomorrow the digging starts. Hope everything goes smoothly, but of course, from prior experience, I know it won't. That just comes with the territory. The biggest hassle so far has been getting the utilities to ID their underground lines. Start early on this if you are managing your construction.
I've included a few pictures and will provide more as we progress.

My mother-in-law. Looks like a very sweet lady, doesn't she. Well, she is.

The unmarked lot from below. It is amazing how much rise there actually is versus what it looks like to the naked eye.
A picture of the tape measure showing distance to the sewer line ID'ed by the sanitation authority. Document this stuff because they are often wrong, and if they are you need a record.